Tech Cocktail & Downtown Project cordially invite you to Tech Cocktail's Sessions Speaker Series, a monthly speaker series where a number of guests will give short talks about projects or topics they are passionate about.
Sessions, Tech Cocktail's new speaker series, brings the experiences of successful entrepreneurs to you so you can learn valuable lessons for your startup. Hear their stories in their own words and ask them your questions in an intimate setting.  Check some of our impressive speakers from past Tech Cocktail Sessions events.
~ ~ EVENT TIMELINE ~ ~
1:30 – 2:30 | FREE Big Ern's BBQ
2:30 – 5:00 | Tech Cocktail Sessions Speaker Series
Friends & tech enthusiasts: Secure your tickets now!

 ~*~ FEATURING~*~
 Clay Hebert – Founder & CEO, Spindows
Unlikely Partnerships: How Collisions Can Lead to Magic"
Clay Hebert is the founder and CEO of Spindows.com, the world's first enterprise discovery platfor. Spindows helps organizations discover knowledge and skills, helps colleagues discover each other and helps the everyone discover new ideas and innovations. Clay is also a popular public speaker, engaging audiences around the globe on innovation, creativity, marketing, entrepreneurship and the future. Clay blogs at DailySense.com and can be found on Twitter at @clayhebert.
Matt Van Horn – VP of Business Development, Path

Matt Van Horn is Vice President of Business for Path, where he wears many hats and has been since before launch. Previously, Matt ran Business Development for Digg where he led partnerships and started the publisher Digg button program. He also co-founded Zimride (now Lyft), the top on-demand ridesharing service. Before that, he worked at Apple managing higher education marketing for the University of Arizona, his alma mater. Today he lives in San Francisco with his wife Lauren and their dog, Lady.
Sarah Elizabeth Ippel – Founder, Academy for Global Citizenship
"Well, That's a Long Commute – and 9 Other Reasons We're Not Getting Married"

When she was 23 years old, Sarah Elizabeth Ippel rode her bicycle to the Board of Education with a simple request: to reimagine what is possible in public education today. Three years later, in 2008, the Academy for Global Citizenship opened in a former dental tool factory on the city's underserved Southwest side where Sarah Elizabeth serves as its Founder and Executive Director. A Chicago Public Elementary School on a global mission, AGC is developing the next generation of critical thinkers and mindful leaders who take action to positively impact their communities and the world beyond.
Sarah Elizabeth's life mission is to broaden the world's assumptions about the purpose of education. Since earning a Masters of Philosophy from the University of Cambridge in England, she has traveled to over 80 different countries across 6 continents, extensively immersing herself in educational philosophies and world languages, as well as creating international alliances that have informed the design and culture of the Academy for Global Citizenship.
Stefan Weitz – Director, Bing
"Well, That's a Long Commute – and 9 Other Reasons We're Not Getting Married"


@stefanweitz
Stefan Weitz is a Senior Director of Search at Microsoft and charged with working with people and organizations across the industry to promote and improve Search technologies. While focused on Microsoft's product line, he works across the industry to understand searcher behavior, academic developments, and innovations from all over and, in his role as an evangelist for Search, gathers and distills feedback to drive product improvements.
Prior to Search, Stefan led the strategy to develop the next generation MSN portal platform and developed Microsoft's muni WiFi strategy and implementation, leading the charge to blanket free WiFi access across metropolitan cities. Stefan has been writing code since he was 8 years old and is fluent in both hardware and software architecture, trends, and potentials. A 15-year Microsoft veteran, he has worked in various groups including Windows Server, Windows, Informatics Security, and licensing in roles ranging from development to program management, business development to marketing. Stefan holds a half-dozen patents in various disciplines and is a frequent lecturer to industry and academic groups on the future of information storage, retrieval, and usage.
Finally, Stefan is working on a book with the nation's youngest VC to promote entrepreneurism to the highschool crowd and is advising on how to make available 40 years of archived data from the 92nd Street Y in NYC.
Julia Roy – Cofounder, WorkHacks – "Productive Partnerships: How To Communicate Effectively"
Entrepreneur and futurist exploring the intersection of productivity, science and technology.
THANK YOU TO OUR SPONSOR!!
Partner, American Airlines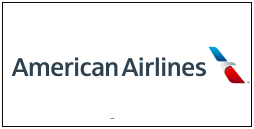 Interested in sponsorship opportunities?
Check out the options or contact us today.