November 2, 2015
12:30 pm
We all know that marketing, in some form or fashion, is essential for bringing in new leads and sales to a business. The problem is, at least for most of us, that our marketing budgets are limited. For some, your marketing budget may be extremely limited – which means you've really got to be creative with how you spend those dollars in order to get the most out of them.
The great news is, there are a number of different things you can do for free to bring in new leads and sales. Here are 5 free marketing ideas that are proven to work and that some of you may not already know about. Real businesses have used these exact techniques to increase leads and/or sales.
1. Help A Reporter
Perhaps my favorite free marketing opportunity of all-time is Help A Reporter Out (HARO).
The idea is simple: you sign up for their email list and then you start receiving daily emails from writers, journalists, and media outlets of all sizes. Every one of them is looking for a source for their story – and they are usually up against a deadline.
This gives you a chance to be that source. In turn, you'll get mentioned in their story and receive several free benefits:
You'll put your business in front of a new audience, driving traffic (and potential buyers) to your website.
The more you're quoted as an expert in the media, the more you build yourself and your business to the level of "thought leader" in your industry.
Often, the online stories will include a link back to your website which can be beneficial to your big picture SEO efforts.
One of the more impressive success stories is that of Switch2Health. They had launched a new product which tracked the number of steps you take, and then from a response in HARO, they were featured in Better Homes and Gardens Magazine.
Image Source: Cision
After the story ran, they completely sold out of their product in 2 weeks, and even had a waiting list of buyers. As their VP of Business Development, Goutham Bhadri puts it:
"We had no marketing budget…We had no PR background. But we had a new product, and so we signed up as a HARO source and began pitching in response to every relevant reporter query: requests for unique gifts, health devices, fitness stories – anything like that."
While your business may not end up in a major magazine, you can certainly count on some free exposure to new audiences by simply taking a few minutes per day to give your thoughts on topics you know the best.
2. Build An "Old School" List
Experts almost unanimously agree that building an email list for your business is critical.  As Joe Pulizzi puts it:
"An email list is critical because you can't build your content on rented land. So many brands and companies build their audiences on Facebook and Google+, which is fine, but we don't own those names – Facebook and Google do. If we are thinking like real media companies, the asset is in the audience…"
Often, we immediately think about online techniques for building an email list like lead magnets and content upgrades. However, Laura Nunemaker shared a bit of an "old school" list building strategy that worked for her local bakery: paper and pen.
"We put out a legal pad, pen and simple flyer in a plastic frame describing the benefits of our weekly email newsletter. There were no prizes or promised discounts for signing up but we still cleared about a dozen sign-ups a week."
If you have a brick and mortar location, it costs you nothing to put out a physical list so your loyal customers can opt-in for your email updates. So what are you waiting for? This is an easy win that can be done in just a few minutes.
3. Join Industry Directories
No matter your field, there are likely online and offline directories that you can join and get free exposure for your business.
MailChimp is a leading provider of email marketing services and they have an expert directory. Brett Farmiloe of Markitors was already a MailChimp customer and found out about their expert directory because they seemed to always refer him there to get help with special projects and integrations.
Source: Mail Chimp
Since Markitors offers email marketing services, Brett asked MailChimp if he could be an 'expert' and got approved for their list. Brett said this inclusion has provided a steady stream of new leads for their business every week.
You can try this for yourself by searching "Your Industry directory" and see what you come up with. If you find lists of service providers where your company would make sense to add, go for it!
4. Offer To Be A Case Study
Businesses love to feature customers who are succeeding with their product or service. Odds are, your business uses a bunch of different services and products to manage your sales, finances, operations, etc. Many of those businesses would love to feature your business in the form of a case study or testimonial, like you see below from ZenDesk:
Cory Brown of Pronto Marketing started out by using a simple spreadsheet internally and listed all their service providers, and then recorded their contact information on the spreadsheet. Then, he'd track responses and links that resulted from their efforts in the same spreadsheet. Often, companies were very excited and receptive to the idea of doing a case study of Pronto Marketing.
The end result for Pronto was that they picked up a bunch of free publicity and high quality backlinks from service providers around the industry like Zendesk, Hootesuite, and WooRank.
This is another free marketing idea that you can implement rather easily, with a better than average chance of landing some excellent free exposure for your business.
5. Give Away Your Product
Running contests to give away free products and services is an amazing way to get fresh, targeted leads for your business. To maximize your impact, you should give away something that is very closely tied to your target audience – not something generic like an iPad. If you're a gardening business, give away a free landscape overhaul.
The point of doing a very narrow, targeted giveaway is that you end up with a much higher quality lead. If you give away a garden overhaul, you know that the people who enter to win are very likely in need of this kind of overhaul. So naturally, those people who don't win your contest are ideal leads to follow-up with and sell your services to.
We actually used this idea in our own business, and saw outstanding success. If you're interested, I wrote about all the details of how we ran and promoted our contest here. In short, we decided to give away a lifetime subscription to our software, Long Tail Platinum. This was something we'd never offered before, but we knew that people who wanted lifetime access for free might also be willing to pay for that access. In the end, we generated 1,749 new leads from this contest. Below is a peek at the numbers of entrants we had overall: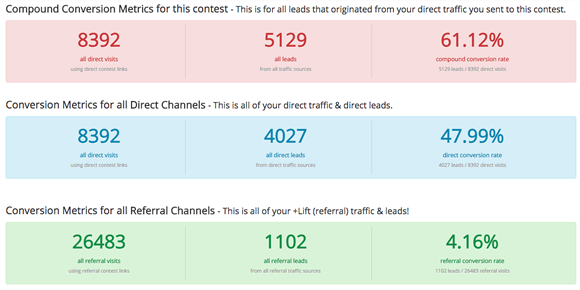 Source: Long Tail Pro
We also decided to sell lifetime access to our software for 72 hours after announcing the winner. Our revenue in those 72 hours was greater than the revenue we had earned the entire previous month! It's safe to say, the software giveaway was a smashing success.
Particularly if you are in a service or digital product business, I highly recommend running a targeted contest to drum up new leads and sales. Just remember – it's always better to give away something too specific to your audience than something too general (like an iPad.) The goal is to bring in people who are most likely to become paying customers.
Did you like this article?
Get more delivered to your inbox just like it!
Sorry about that. Try these articles instead!