December 12, 2012
6:53 pm
12.12.12.  In Vegas slot machine lingo, this spells w-i-n.  In Downtown Las Vegas, this amounts to something even better – the first day of the inaugural Tech Cocktail Week.
#TCWeek kicks off with a private reception for our guests tonight- but the free public portion of the event will take place tomorrow and Friday, with more than 20 prominent minds in technology, business, and entertainment sharing the secrets of their craft at 107 S 7th St Las Vegas, NV 89101.
The speakers are listed below beginning with our three Keynote Speakers: Amy Jo Martin, Timothy C. Draper, and Raj Kapoor who will be speaking at the Tech Cocktail Week Mixer on Friday evening. 
Amy Jo Martin
Amy Jo Martin founded Digital Royalty three years ago to help companies, celebrities, professional sports leagues, teams, and athletes build, measure, and monetize their digital universe. 2012 has been a year of transition for her team. The company relocated to Downtown Las Vegas following an investment by VegasTechFund. They've also shifted their business model to include more than the consulting services that they have previously offered. To that end, on October 2nd, the company launched Digital Royalty University, which provides customized social media education programs and offers a comprehensive curriculum blending strategic and tactical training.
"Social channels impact every aspect of business. We developed a curriculum to help everyone understand within an organization how they can integrate or be aware regarding social media as it relates to their role," says Martin. The company began testing the curriculum about a year and half ago and has several thousand graduates of the program. Digital Royalty is also proud that with the launch they'll be "doing good while doing well," an oft-repeated mantra of Martin's. For every class a learner purchases online, the company will be donating a class to teachers through a partnership with Teach for America. "We're really dialing in what will be helpful to them," says Martin, noting that in a digital world, building a personal brand is an important part of building a resume. She also points out the importance of teaching young people how to behave responsibly in the social space.
The shift at Digital Royalty is indicative of a personal shift for Martin. Last year she logged 210 flights while growing her business 400%. But she felt what she describes as a purpose deficit. "Why am I doing all this? Why are we making very influential celebrities and brands more influential?" she wondered. After watching a TED talk by Start with Why author Simon Sinek, finding a purpose in her work became a goal. Sinek's premise resonated with her: "'If you don't know why you do what you do, how do you expect anyone to follow you?'"
Martin has since refocused her efforts. She's found what she describes as "Royal Bliss–where passion, purpose, and skill collide." And she's aiming to help others achieve their own state of bliss. Through her journeys, both business and personal, Martin has garnered lessons that she shares in her book Renegades
Write the Rules. "I felt like I had a lot of stories to tell. If we can share our stories, we can share lessons and allow other people to leapfrog our mistakes. That accelerates the process of learning, innovation," she says.
____
Timothy C. Draper
Timothy C. Draper is the founder and a managing director of Draper Fisher Jurvetson (DFJ). In this capacity, he has backed more than 400 enterprise, software, mobile, cleantech, energy, health care, and other "disruptive category" companies, including Skype, Tesla Motors, Overture.com, Baidu, Digidesign, and Hotmail. In fact, it was Tim's original suggestion to use "viral marketing" in web-based email to geometrically spread a product to its market that helped put the wildly successful Hotmail on the map—a technique that has since become standard practice within the marketing industry.
Tim is also responsible for launching the DFJ Global Network, an international network of early-stage venture capital funds with offices in over 30 cities around the globe. "Whenever somebody says something's impossible," Draper told Andrew Belay, VC & Money editor for AlwaysOn, "I say, 'OK, so how do we do it?' When they said that venture capital doesn't scale, I thought, 'Maybe it does scale. Maybe we just haven't thought about it the right way.' That's how we scaled it, geographically."
Beyond his work with DFJ, Tim is a recognized thought leader in his field and a sought-after global advocate for entrepreneurs. A graduate of Stanford University, he earned his MBA from Harvard Business School and was ranked #52 on the list of the 100 most influential Harvard Alumni, #7 on the Forbes Midas List, and Always-On's #1 top venturecapital dealmaker for 2008.
On a personal level, Tim is committed to educating and inspiring future entrepreneurs. And when Tim Draper commits, he puts more than just his money where his mouth is. A former member of the California Board of Education, he created the nonprofit BizWorld, which uses entrepreneurship to inspire critical thinking, leadership, and teamwork skills among children in grades 3-8, and the founder of Draper University of Heroes, an immersive boarding school for students 18-24 years old.
"What I wanted to do was create a school of the type that encouraged people to step out there and become heroes." Draper told San Francisco ABC affiliate, KGO-TV, earlier this month. "To stick their neck out to as we say in the credo 'to fail and fail again, until they succeed.'"
The school welcomed its first students this summer, for a month-long pilot program whose curriculum included, along with the requisite instruction in business fundamentals, activities such as yoga, go karts, kayaking, painting, and urban and rural survival contests. Per Tim, "A few people will succeed at and many people will fail at them. Our goal really is for them to understand what it's like to fail and to move on."
—
Raj Kapoor
When he's not rocking the tech world with his innovative ideas, entrepreneurialism, and venture capital savvy, Raj Kapoor is rocking the mic. That's right, the cofounder and former CEO of Snapfish belts out the cover tunes as lead singer of the aptly named Coverflow, a band of Silicon Valley superstars who also happen to be musically talented.  The group met at a tech conference jam session and formed a band that provides another creative outlet for hard-charging tech execs. "I realized that I really do enjoy being on stage. I took some acting classes in college. So I'm self-taught. I am by no means an expert singer or Pavarotti," Kapoor says.
The group has since been playing gigs around the Valley and raising money for charity while doing so, including the recent "Silicon Valley Voice" event held at the historic Fillmore Auditorium.  Of course, Kapoor is also busy shaking up the way startups get funded.
Currently a venture partner at Mayfield Fund, he's set to launch his own new company early next year—cofounder.co.  The organization is an innovative new entity where Kapoor will be a minority co-founder helping a few companies from the founding stage to global scale and rapid growth. His goal is to bring his wealth of experience as a successful cofounder, CEO, and venture capitalist to startups in a deep and ongoing manner, helping founders with every key decision.  He is actively looking for passionate entrepreneurs in his sectors of expertise under this model who are in the San Francisco Bay area or want to be based there.
Kapoor explains that most fledgling entrepreneurs, "have great ideas, but they don't have experience running a company. They don't have experience being an entrepreneur." Through his cofounder.co model, he hopes to avoid the light-touch approach of the typical accelerator. Instead, by focusing his investments on a few companies, he can spend a dedicated amount of time helping to guide the operations of each entity. He says of most startups, "They're looking for help. Not just capital." For cofounder.co, he has some very specific criteria in mind when seeking investment opportunities. "The ideal startup has a really strong technical founder. They're looking to build amazing products, and they understand business. They have a strategy, but they don't have experience," Kapoor explains.
Kapoor will be sharing his experiences as a successful co-founder—including insights on the fact that most successes don't follow a straight line path—during his talk on Friday, December 14th at 6:00 p.m. He'll also provide a glimpse into the minds of venture capitalists and what they look for when investing, and he'll explain more about the innovative model that his new company, cofounder.co, is utilizing to help entrepreneurs.
—
Alex Chang
Alex Chang and his younger brother co-founded One Technologies in October 2000 with an investment of $1,600.
In 2011, One Technologies surpassed $100M in annual revenue. In his role as Chairman, Alex contributes to overall strategic direction at the company.
Alex has been recognized as one of the top entrepreneurs under 40 in Dallas by both D Magazine and the Dallas Business Journal. He is also an avid adventurer who has traveled to over 30 countries, climbing Aconcagua, hiking in Patagonia, trekking Machu Picchu, and cycling through Italy. As a way to give back, Alex is on the Board of Big Brothers Big Sisters Lone Star and a mentor with one of the top seed accelerators, TechWildcatters, helping the next wave of entrepreneurs. Alex graduated with a Bachelor's Degree in Business Administration from The University of Texas at Austin.
—
Ashish Parikh
Prior to co-founding Whamix with Apurva Shah, Ashish Parikh was a business analyst with McKinsey & Company, working closely with senior technology executives to create and implement growth strategies. He earned his Bachelor's Degree in Electrical Engineering from Northwestern University and is currently completing his MBA at the Wharton School, University of Pennsylvania.
—
Apurva Shah
Raised in Bombay, India, Apurva Shah devoured comics, adventure books, and romance novels as a boy. The words and images from these publications provided just the spark to set his imagination ablaze—a fire that continues to this day. Previously a technical director at both Pixar Animation
Studios and Dreamworks, his film credits include "Ratatouille," "Finding Nemo," "Shrek," "Antz" and "Cars2." Apurva has taught at the Academy of Arts College and the Art Institute of San Francisco. He served on the Bay Area board of the Visual Effects Society and holds several patents related to animation technology.
—
Aziz Gilani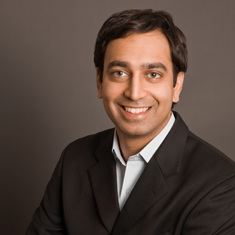 Aziz Gilani has spent the past 15 years focused on software and the Internet. A director at the venture capital firm, DFJ Mercury, he specializes in finding and funding compelling, science-based innovation, entrepreneurs, and start-up opportunities. Beyond Mercury, Aziz serves as an advisor to Excelerate Labs, the Kellogg School of Management's Seed Accelerator Rankings, and the Knight Foundation.
He has a Bachelor's Degree from the University of Texas, an MBA from Northwestern University's Kellogg School of Management, and is a graduate of the Kauffman Fellows Program, where he completed industry-defining fieldwork in Seed Accelerators.
—
Brittany Laughlin
Brittany Laughlin is the founder of Incline, a social enterprise that educates, supports, and equips military veterans with the skills and resources to pursue full-time technology and engineering careers. A programmer and proud Navy brat, she was previously the co-founder and COO of the venturebacked social travel site, gtrot.com. Described by Joanne
Wilson (Gotham Gal) as a "tenacious entrepreneur," Brittany was named one of the Chicago TechWeek 100, a Chicago Entrepreneur to Watch, and a Top 50 Young Champion for Women. She has a Bachelor's Degree in Marketing and International Business from New York University's Stern School of Business and a minor in Film and Television from Tisch School of the Arts.
—
Elizabeth Stark
An influential free culture advocate and leading expert on the intersection between knowledge, creation, and innovation, Elizabeth Stark has taught technology and the Internet at Stanford and Yale.
She is a graduate of Harvard Law School, where she worked on a variety of projects at the Berkman Center for Internet & Society, and was a key organizer of the anti-SOPA movement, which engaged over 18 million people in the worldwide open Internet debate.
Elizabeth is also a co-founder of the Open Video Alliance, promoting free expression and innovation in online video through open standards, open source, and sharing. She is currently an Entrepreneur-in-Residence at Stanford's StartX.
—
Cathy Brooks
Cathy Brooks' lifelong passion for communication began well before her first job, ripping wire copy in 1982, and has evolved over the years to encompass nearly every platform and aspect of media, from reporting and editing to broadcast management, talent casting, and guest booking. She is the founder of Other Than That, a firm that helps companies and individuals navigate the complexities of persuasive storytelling. Previously, Cathy ran business development for San Francisco-based Seesmic, worked with global analyst firm, Guidewire Group, booked guests for TechTV, and helped curate content for LeWeb. To slake her thirst for content creation, she blogs and hosts "The Conversation," a weekly online program focused on how technology is changing our world.
—
Erik Moore
The founder and managing partner of Base Ventures, Erik Moore is a committed angel investor, entrepreneur, creative thinker, lover of all things technical, and an unabashed optimist. In the past 12 years, he has invested in nearly two dozen trailblazing startups, including Zappos.com and Agencourt Biosciences.
A former bond trader, he secured an early retirement from Merrill Lynch in 2011 to pursue his passion for entrepreneurship full-time.
—
Evan Burfield
Evan Burfield is committed to making Washington, D.C. the center of entrepreneurial efforts to reinvent America. Currently chairman of Startup DC (part of the Startup America Partnership), chairman and co-founder of Hallway, a mentor with The Fort, and managing partner with K Street Capital, he founded the D.C.-based consultancy, Synteractive, to build innovative social apps for startups, corporations, and government agencies. Synteractive was named #64 on Inc.'s list of the 500 fastest growing companies in America and the 2010 Microsoft Federal Partner of the Year for their innovative work in building recovery.gov. A serial entrepreneur, Evan works closely with aspiring entrepreneurs through venture acceleration in high schools.
—
Greg Cangialosi
A serial entrepreneur and early stage/angel investor, Greg Cangialosi is the co-founder of Betamore, an urban campus for technology and entrepreneurship located in Baltimore's, Federal Hill neighborhood. Currently managing director for venture capital firms Baltimore Angels and Nucleus Ventures, LLC, he is a seasoned lecturer on marketing and entrepreneurship and the lead author of The Business Podcasting Book, a new media primer for marketers. A proud husband and father, Greg holds a Bachelor's Degree in English from the University of Maryland Baltimore County and sits on the board of directors for WhatCounts and the Greater Baltimore Technology Council. Follow his blog at cangialosi.net
—
Guy Gal
Guy Gal (yes, that is his real name) is a digital video strategist and recognized thought leader in the digital video space. Prior to launching Kingmaker, he founded two other startup services, building both to multi-million dollar revenues. According to his NXNE speaker bio, Guy believes that the future of the internet is "more like television and less like a magazine, and that we are currently witnessing the greatest renaissance in communication since the invention of the printing press." He lives in Toronto and is a graduate of the city's York University. Kingmaker is Guy's first venture-backed company.
—
Jacqueline Rhoades
Jacqueline Rhoades is the vice president of sales for Institutional Shareholder Services (ISS), the leading provider of corporate governance solutions to the global financial community. A career business development professional with special expertise in launching startups and new divisions of large companies, she has worked in media, technology, finance, fundraising, and branding for well over a decade. Jackie holds a Bachelor of the Arts from Scripps College in Claremont, CA, and did her graduate work at St. John's College in Santa Fe, NM.
—
James Montgomery
James Montgomery serves as CEO at Montgomery & Co., which he founded in 1986. He is focused on the strategic growth and direction of the firm, along with leading their private investment partnerships. Montgomery & Co. has quickly grown to become a leading investment bank with offices in Santa Monica, San Francisco, and New York.
James is a recognized expert in high technology industries and markets and has advised leading global, media, communications, and technology companies regarding industry consolidation, new market entry, divestitures, strategic alliances, and capital formation. He has been a seed investor in a range of successful software, technology, Internet, biotechnology, and communications companies.
James is a board member of PhoneFactor and Vantage Media and a board observer at Mobile Messenger. He received his Master's Degree in Economics from Cambridge University and holds a Bachelor of Arts from the University of California, San Diego.
—
Kirby Harris
Kirby Harris has worked in private equity and venture for more than 10 years. Currently a director at Base Ventures, he also serves on the board of directors of the EC Reems Academy Of Technology and Arts, a public K–8 extended elementary charter school serving disadvantaged and at-risk youth in the East Oakland community. A graduate of Morehouse College, Kirby earned his MBA at California State University's Hayward School of Business and Economics.
—
Liberty Huang
Liberty Huang has been active in the Internet space since 1999, helping to build numerous marketing startups. Part of the first Zappos team to move to Las Vegas, she is currently VP of business development at WebJuice, an online advertising exchange for Fortune 500 companies. Liberty is also a co-founder of Boobs4Food.com, a volunteer group dedicated to fighting hunger by uniting the food-loving community with those for whom the next meal is an uncertainty.
—
Michael Tchong
Michael Tchong is founder of Social Revolution, a startup that aims to reshape the future by leveraging crowdsourcing to help spur more innovation. His speaking career was launched during the dotcom boom, after the founding of ICONOCAST, an online marketing pioneer. He has spoken to audiences around the globe, about lifestyle trends, social media, marketing, and technology.
An innovation consultant, Michael educates and motivates attendees by exploring solutions that leverage market trends. His talks showcase brands that are adapting to emerging shifts in business and society, with a special focus on innovation case studies and "ubertrends." Michael is the author of Social Engagement Marketing, an expert guide to the world of social media. His latest start-up, Social Revolution, aims to spur market growth by crowdsourcing innovative solutions.
—
Dr. Natalie Baumgartner
Dr. Natalie Baumgartner is a co-founder and chief psychologist at RoundPegg, providing web-based culture intelligence to quantify the unique culture of organizations and thereby align their hiring, development, and engagement. The "human form" of RoundPegg for over a decade, Natalie regularly consults with investors, senior executives, and boards of directors to define culture fit. She holds a Ph.D. in Clinical Psychology and serves on the board of the Consulting Psychology Division of the American Psychological Association. A true evangelist, Natalie is a popular speaker on the subject of culture and its power to revolutionize how we live and work.
—
Sarah Austin
Sarah Austin is a popular tech correspondent, vlogger, and Internet personality. Prior to founding the episodic new media brand, Pop17, she was a producer of the web series, Party Crashers, a beta lifecaster for justin.tv, and an online personality for "The X Factor," "The X Factor Pepsi Live Preshow," and Comcast's "VidBlogger Nation." A regular contributor to Forbes magazine since late 2010, Sarah has been named among North X East's 50 Most Influential Female Bloggers, Playboy's Five Hottest Female Bloggers, and Vanity Fair's 2010 round-up of "America's Tweethearts." She is currently a featured cast member of the Bravo reality TV series, "Start-Ups: Silicon Valley."
—
Saul Kaplan
Saul Kaplan is the founder and chief catalyst of the Business Innovation Factory (BIF). With an active, global community of over 5,000 innovators, BIF is a real-world laboratory for testing new business models and system-level innovation in areas of high social impact, including health care, education, entrepreneurship, and energy independence. Beyond BIF, Saul is the author of The Business Model Innovation Factory: How to Stay Relevant when the World Is Changing, and enjoys sharing his musings on Twitter (@skap5), his blog ("It's Saul Connected"), and as a regular contributor to the Harvard Business Review, Fortune, and Bloomberg Businessweek.
—
Sloane Davidson
Sloane Davidson is the senior vice president for communications and public relations agencies Lippe Taylor and ShopPR. A longtime blogger and online influencer with special expertise in consumer marketing, e-commerce, nonprofits, technology, and corporate social responsibility, she launched her own blog, The Causemopolitan, in 2009. She was a citizen journalist for MySpace and The Wall Street Journal at the 2010 World Economic Forum and was named a Top 10 Twitter influencer at the 2010 Clinton Global Initiative and one of the "Top Women To Follow On Twitter" by Forbes. Sloane sits on the board of She's The First, a nonprofit dedicated to improving girls' education in the developing world, and has raised over $1.5 million dollars for nonprofits. A frequent public speaker, she has been featured on CNN, Mashable, Triple Pundit and The Chronicle of Philanthropy.
—
Tim Wolters
Boulder-based inventor and serial entrepreneur Tim Wolters has taken four software and SaaS startups, including Dante Software and Collective Intellect, from concept to revenue generation to sale. An esteemed thought leader in the area of statistical modeling, he pioneered the use of advanced analytical non-linear correlation models in building business applications and holds patents in business intelligence (BI), business activity monitoring (BAM), and social media influencer analysis. Having been "in and out of the bubble" through two economic downturns and recoveries, Tim feels it's high time great technology was brought to the business of matching people to jobs.
—
Did you like this article?
Get more delivered to your inbox just like it!
Sorry about that. Try these articles instead!